The Basics of Choosing a Printer
Deciding what kind of printer you want to purchase -- inkjet, laser, or multifunction -- can be frustrating and confusing. Here are some of the basic questions you may be asking.
Considering Ergonomics
Ergonomics is the science of determining how to make a device -- or an environment -- healthy, comfortable, and efficient for a human to use. When purchasing a printer, scanner, or multifunction, you should consider whether the ergonomics of that particular unit is appropriate for your own needs. Here are some things to look for.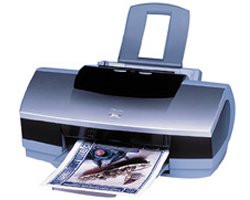 USB is Faster But Parallel is Fine
Until recently, the most common method for connecting the two was through the parallel port. Today, however, most printers come with USB ports rather than parallel ports. USB ports are a lot faster, and a single port can handle several different devices. But don't throw away your parallel-port printer yet.
Unleash Your Printer
Wireless print servers are liberating printers everywhere, allowing users to print from anywhere in the house. From PC Magazine, reviews of six wireless print servers.